Sharpen your brain and reflexes while having fun
29 Easy To Play - Computer Games For Seniors
For many seniors, computer games are just too hard! Nanogames are unique in that they extremely flexible and can be personalized to match the abilities of almost any player. Nanogames are designed for players with a very wide range of abilities. This enables seniors to play and win a wide range of logic, arcade, educational and puzzle games. They can compete with their friends siblings, adult children and grandchildren on the same game (who can play at full speed while the senior can play with customized settings to match their ability).
Who Purchases Senior Nanogames?
Seniors buying for themselves
Children and Grandchildren (often as a gift)
Community Centers
Day Activity Centers
Rest Homes / Nursing Homes
Accessibility Assessment Centers
Hospitals
Therapists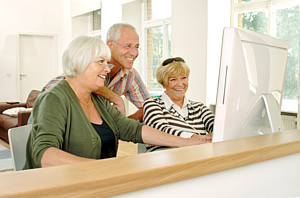 Key Features
Game speeds can be reduced by up to 90%
Time limits can be increased by up to 1500%
Easily simplify the games to reduce their complexity
Large game objects for seniors with Low Vision
Family members can compete at full speed
Example: video of one of our games
Rave reviews from our customers...
"There are very few computer games available for seniors. My mother has limited mobility, but enjoys puzzles and very easy to use computer games (mostly solitaire). When I viewed your games, I was certain my mother would be able to use the computer to play most of them."
- Grace, Lorton, USA
"I'm excited about Nanogames. My mother-in-law is 76 and just mentioned that she wants to use her computer more, to keep her mind alert and active! ... I also have a 3 kids – 6, 14 & 16. This will allow me to taylor games to all of their skill levels. Allowing us to download a 7 day trial was just perfect and helped us to decide to purchase after playing for about an hour."
- Pam, Iowa City, USA